We've all been there - unexpected guests, a last-minute dinner plan, and you find yourself wondering what to whip up in a hurry. At Allegra Restaurant, we've crafted a selection of versatile and convenient food items that empower you to create culinary magic in the comfort of your own kitchen. Our range of specially developed food items is designed to cater to your culinary needs, whether you're hosting a gathering, treating your family to a delightful meal, or simply seeking a convenient and delicious option.
Imagine having the essence of Allegra in your kitchen. Stock up on our food items and impress your family and friends with creations that are as delicious as they are effortless.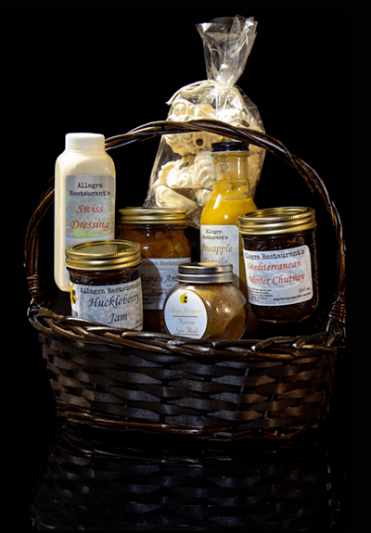 Our Ultimate Gift Solution!
Allegra Gift Basket
$125.00 - $175.00
Buy now
Experience the joy of gifting like never before with Allegra's exclusive Gift Basket, a treasure trove of culinary delights that's sure to delight your loved ones. Perfectly curated, this basket brings the essence of Allegra directly to their doorstep. But there's more. We've included a gift certificate that invites your recipient to indulge in the magic of Allegra's dining, ensuring that the joy goes beyond the basket.
Exclusively available for delivery in Cranbrook, our Gift Basket is a gesture of joy that's effortlessly convenient. What's more, the delivery is absolutely free, a testament to our commitment to creating seamless and memorable experiences.
Ready to gift the ultimate experience? Order our Gift Basket today and let us bring a touch of Allegra's magic to their door.
Gift Basket includes:
1 jam
1 chutney
1 BBQ sauce
1 Antipasto
1 salad dressing
1 Moroccan spice blend
1 bag of Meringue
1 $50.00 Allegra Gift Certificate
Free personal delivery in Cranbrook ( Not available for out-of-town order)