Have you ever found yourself stranded in your kitchen because you need to cook something nice and quick for unexpected guests? We developed a few food items for your convenience that are versatile and easy to use. Stock up on our products and impress your family and friends!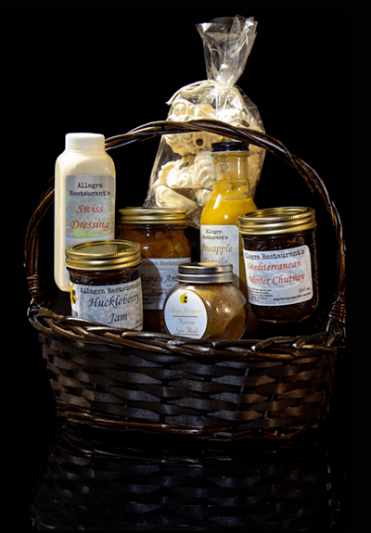 Our Ultimate Gift Solution!
Allegra Gift Basket
$125.00 - $175.00
Buy now
We have put together a gift basket with some of our best products as well as a gift certificate. This item is available to order for delivery in Cranbrook only. Delivery is free, so make sure to include the address and phone number of the recipient so we can arrange to deliver at a time convenient for them.
Gift Basket includes:
1 jam
1 chutney
1 BBQ sauce
1 Antipasto
1 salad dressing
1 Moroccan spice blend
1 bag of Meringue
1 $50.00 Allegra Gift Certificate
Free personal delivery in Cranbrook ( Not available for out-of-town order)