Serving Suggestions
A delicious chutney made with dried fruits! It is great as a condiment with cheese, cold cuts and crackers. It also is an excellent upgrade to Cranberry sauce for your turkey dinner. Or serve it with pork, chicken, duck or game meat.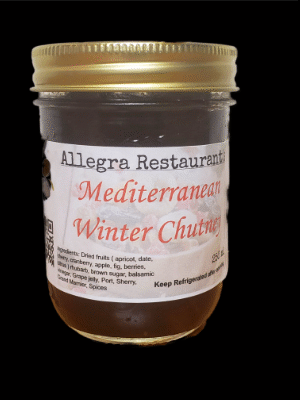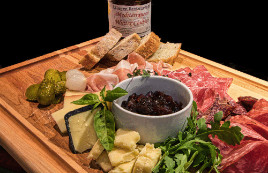 Pork tenderloin baked with Chutney and Gruyère cheese
you'll need:
- 6 oz pork tenderloin, cut in 2 medallions
- salt, pepper
- Mediterranean Winter chutney
- 2 slices of Gruyère (Swiss) cheese
- little Moroccan spice blend



how to proceed:

- Season the meat with salt and pepper, then pan fry over medium heat on both sides until halfway cooked
- place meat in oven safe dish, top each medallion with a generous amount of the chutney
- add a slice of cheese on each, lightly sprinkle with the spice and bake in the oven until cheese is evenly melted
- Remove and serve immediately with your favorite sides
- Enjoy!
(Recipe by Chef Thomas Nay)