Recipe for a successful dinner!
LOST IS ALL THE CULINARY TIME NOT SPENT WITH GOOD FOOD.
-unknown origin-
SO, GATHER YOUR FAMILY AND/OR FRIENDS AND LET US MAKE YOUR DINNER SUCCESSFUL!
~~~~~~~~~~~
WHAT DOES "ALLEGRA" MEAN?
THE WORD COMES FROM THE OLD LATIN LANGUAGE RUMANTSCH, A LANGUAGE THAT IS STILL SPOKEN IN PARTS OF SWITZERLAND, AND HAS TWO MEANINGS: AS "WELCOME!" AND FOR "GOOD HEALTH!". IT PERFECTLY REFLECTS THE CULINARY CULTURE OF THE MEDITERRANEAN REGION, WHERE A DINNER USUALLY ENDS UP AS A BIG EVENT INVOLVING FAMILY AND FRIENDS ALIKE, ENJOYING THE FRESHEST FOODS FROM FIELD AND SEA PAIRED WITH GOOD WINES.
THE MIX OF OUR HERITAGE WITH THE MEDITERRANEAN INFLUENCES IN OUR CAREERS AND THE DESIRE TO SERVE FRESH, HEALTHY FOOD IN A COZY AND FRIENDLY ATMOSPHERE LED TO THE ALLEGRA RESTAURANT IN CRANBROOK. WE SINCERELY HOPE YOU ENJOY YOUR STAY.
BASED ON THE MEANINGS OF THE RESTAURANTS NAME, THERE IS ONLY ONE THING LEFT TO SAY:
ALLEGRA!

YOUR HOSTS,
THOMAS & INES NAY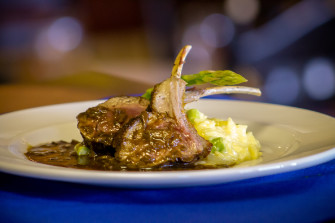 Our Menus
Have a look at everything we can offer you. Our menus get updated seasonally so that there will always be something new to enjoy.
Take Out
Enjoy great Mediterranean dishes at home by using our convenient Online ordering page. Delivery available too!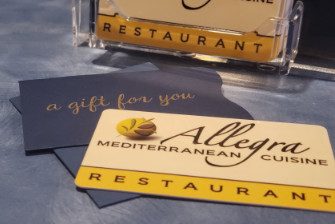 Gift Cards Available
We offer both physical and e-cards for our restaurant. See how you can make someone's day on our Gift certificate page!