Serving Suggestions
Creamy, egg yolk based dressing similar to a French dressing. Use it straight up with your mixed greens or blend in different ingredients like blue cheese or herbs to make it your own. Works great with pasta for a salad or as a dip for potato chips or our Dauphine potatoes.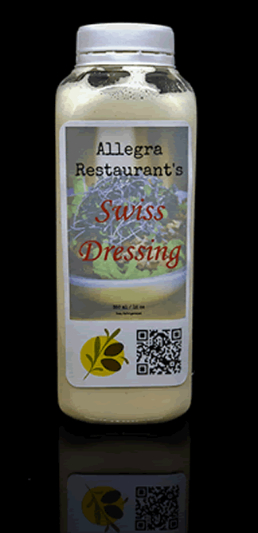 Potato salad
you'll need:
- 1 lbs Russet potato
- 1 cup Swiss dressing
- 3 tbs Dijon mustard (grainy)
- 2 dill pickles
- ¼ cup pickled Perl onions
- ¼ cup green onions
how to proceed:
- Boil unpeeled potatoes until soft (to check softness, stab potato with a pairing knife; it's done when the potato slides of by itself)
- Mix the mustard with the dressing
- Finely dice pickles, Perl onions and green onions
- When the potatoes are done, remove from water and peel while still hot
- Slice potatoes in ½cm slices and, while still warm, mix in all other ingredient
- Let it cool down , occasionally stirring it through. The starch of the potatoes should thicken it up nicely
- Although you can refrigerate it, it tastes best fresh cooked and served at room temperature.

- Enjoy!!


(Recipe by Chef Thomas Nay)