Serving Suggestions
All the berries are hand harvested by our local picker that go into this beautiful jam. Add this luxury to your breakfast bread or to some vanilla ice cream as dessert. Or warm it up and serve it on crepes, pancakes or waffles. Make your very own ice cream with the following recipe: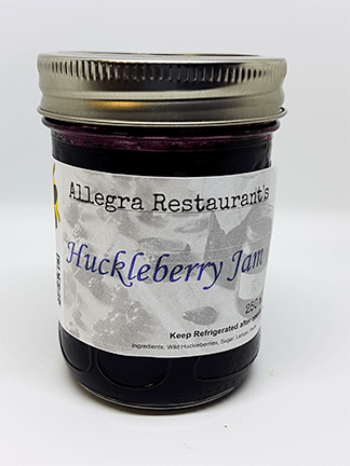 Huckleberry ice cream
you'll need:
- 6 egg whites
- 30 g sugar
- 4 egg yolks
- 60 g sugar
- 1 jar Huckleberry jam
- 600 ml whipping cream
how to proceed:
- Beat egg white and sugar stiff, set aside in the fridge
- Whip the cream, set aside
- Mix egg yolk and sugar until pale
- Add Huckleberry jam to the egg yolks and mix well
- Fold in first the egg white, then the cream
Fill into a Tupperware with lid and freeze
- Enjoy!


(Recipe by Chef Thomas Nay)