Serving Suggestions
The dressing that make our Caesar salad stand above the rest! Made from scratch, it will make your salad a success too! Try these recipes: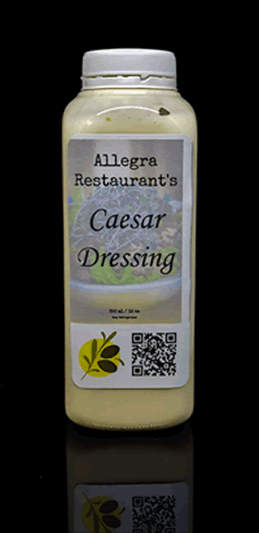 Caesar salad
- 1 romaine lettuce heart, sliced 1" thick
- ½ cup toasted bread croûtons
- 2 tbsp grated Parmesan
- pan fried bacon bits (optional)
- enough dressing to get everything covered well
- Mix all ingredients and enjoy!
Try this recipe:
Caesar dip
you'll need:
- ½ cup Caesar dressing
- 2 tbs Mayonnaise
- 1 tbsp sour cream
- 3 tbsp grated Parmesan
- 3 tbsp bacon bits
- 2 anchovy fillets, chopped fine
- fresh chopped parsley
how to proceed:
- Mix all ingredients, set cold for at least one hour
- Garnish with some extra parsley and serve with chips or raw vegetables

- Enjoy!!


(Recipe by Chef Thomas Nay)