Serving Suggestions
All the rhubarb in this jam is from the chef's own garden! It is great on any breakfast bread or as a condiment with cheese,cold cuts and crackers. It also is a great addition inside a sponge cake or mixed in a berry pie. Make a delicious chocolate mousse with the following recipe: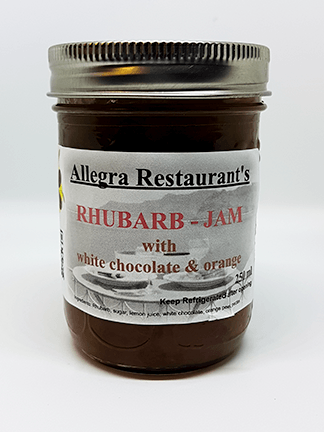 White chocolate mousse with rhubarb
you'll need:
- 4 egg yolks
- 2 whole eggs
- 250 g white chocolate couverture
- 6 Gelatin leafs
- 500 ml whipping cream
- 100 g Rhubarb jam with white chocolate and orange


how to proceed:
- Prepare a double boiler: use a sauce pan with half full of water and bring to boil
- Heat the chocolate over a double boiler until liquid
- Soak the gelatin leafs in cold water
- Whip the cream (except about 50ml - for dissolving the gelatin later on)
- Combine the egg yolks and eggs and whisk it over a double boiler until warm,
- remove before it starts clumping! Then whisk it cold until it gets creamy, best done in a stand mixer
- In the meantime dissolve the gelatin with a little bit of whipping cream on a warm spot (turned of double boiler). Don't overheat!
- Stir the liquid chocolate to the eggs - mix well without over-mixing
- Add some of that mix (a couple spoon full) to the dissolve gelatin, mix it well, then add this mixture back to the chocolate-egg-mix and work it in

- Carefully fold in the whipped cream and add the jam
- Set cold for at least half a day before serving

- Enjoy!!
.
(Recipe by Chef Thomas Nay)